WeWán... Ganawenindán atn Nibwákáwin
Together... Keepers of the Wisdom
Your Guides to the Powaka Experience!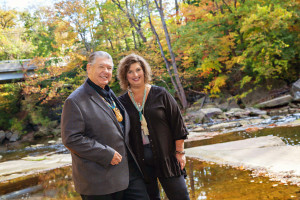 Jim Great Elk (kiji) and Kelly Talking Heron (Ashá) are The Wisdom Keepers, who believe everyone walks their own path on the Circle of Life.
Through the Powaka Experience, you master four basic Stepping Stones to your center… where you learn to Walk in Balance and discover Your Destiny.
Elder, Shawano Mide' Pa-we'wa Jim Great Elk Waters, brings a most unique presence. For over 800 moons as a traveler in this Place and Time, Great Elk has been imbued with a priceless collection of wisdom and knowledge.
Shawano Woman of the Seventh Generation, Kelly Talking Heron Pavlovic, is a practicing Mide' whose energy brings an inherent balance to this most unusual and exciting wewàn.
kiji and Ashá humbly offer a living repository of Traditional Wisdom and Cultures of their collective tribes – Shawano, Celt, Pict, Gaelic, Caucasus, African, Hebrew… The Ancestors.
Together, in their unforgettable style, they share the Wisdom of their Ancestors and forever transform audiences around the world.
Membership & Volunteer Work
Charities
Abbott Scholarships
Royal Arch Research