08^11^2015
Today the world changed… significantly.
You are invited to participate!
We are extraordinarily proud and humbled to announce the formation of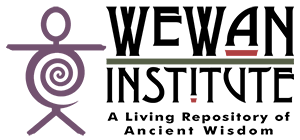 Our purpose is to honor, preserve, and perpetuate the cultural teachings of the Ages.
Do you ever wonder why you're here and what your purpose truly is?
Do you find yourself questioning if you're "doing it right?"
Are you fascinated with the teachings of the Old Ones and how it relates to your life today?
Would you like to learn basic skills, steeped in ancient wisdom, that will at last give you a life of peace and balance?
If you answered "yes" to any of these questions, the comfort and safety of the Lodge of Ahinábi awaits you.
Within these walls, you will find a place of direction and stability. A place to explore, get answers, and receive that which your Ancestors are waiting to show you.
Begin your journey today. With us. WeWán… Together.
Within the WeWán Institute you will…
Discover the simple truths that have been lost in time.
Learn from yesterday's wisdom, and blend it into today's complicated world.
Experienced ethics of equality, where every tradition is revered.
Increase the integrity of your bond with society.
Free your mind to experience the inconceivable
If, like us, you find it fascinating – and imperative – to learn about how your ancestors lived, and more importantly, how it impacts you today….
And if, like us, you want to explore how these values apply to you, and more importantly, to the world…
Join this most unique, groundbreaking, and powerful, worldwide union of cultures today. Re-engage the basics of human relationships, and respect amongst all People…
What is The WeWán Institute?
Why is it different?
And why is it so important?
The WeWán Institute is a creation by descendents of the Ancestors – the First People. From the oral traditions, the teaching stories and healings passed down thru the ages… not filtered by historians, anthropologist or archeologist who have no living connection with this wisdom. It is a safe place of discovery and learning for all descendents worldwide.
Therefore, our vision is to be a Living Repository of the ancient, fundamental, knowledge of each of the First People globally. This is an unprecedented sacred trust to all the Ancestors.
In the next few weeks, we will be sharing with you a sampling of these Ancient teachings from cultures around the world. They will enlighten and inspire you to unite with your own Ancestors and those of your fellow travelers.
At the WeWán Institute each and every one of you are included. There is a place for each of you who wants to know more! We will share with you what these Lodges are and how you can find your place within the Circle of Lodges.
Mi-sa'-a-shi'-gwa. The time is now.
Include yourself at the very beginning of this special opportunity. You too can help Change our World!
Hold your place in the Lodge of Ahinábi…
(No obligation, just community.)
"If you take heed of that which we say,
your life shall always continue.
Listen to us.
Now is the time."
A Mide' Philosophy
Let it begin… let it begin within you!